Bruce Arians' Comparison Take On Jameis
June 8th, 2019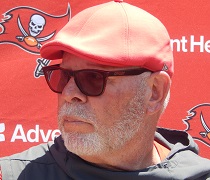 Yes, America's Quarterback, Jameis Winston, has a head coach who is proud of him.
But man, Bucco Bruce Arians has such a high bar, it makes you wonder how Jameis really compares to the other QBs Arians has worked with.
You know the QB names, but the last big one is Carson Palmer, who will enter the Cardinals Ring of Honor this year, it was learned this week. That announcement prompted appearance to land on sports radio in Arizona to discuss.
He talked about the extreme work ethic of Palmer.
"He worked at his craft not just mentally but physically to continue to come back from injuries and do all the things he did," Arians said of Palmer on KMVP-FM. "He would work on his body for at least three hours a day, rotator cuffs, every part of his body. Then, you know, he really got into the virtually reality … and he actually put it in his house. And for him, he had to manage family time. So, you know, he'd get the kids to bed and he'd watch every single rep in practice that he took all week in practice. So he really practiced twice for every game. So his preparation was flawless."
Yes, Jameis is known for a great work ethic but the more Joe hears from Arians about Palmer, Peyton Manning and other QBs under Arians, the more Joe wonders if Jameis must raise his off-field game a notch or two to match those guys.
Arians talked about Jameis during the interview and the high marks he's earned for his spring work. But Arians' tone felt like a guy saying this Bucs rebuild will be tougher than what he found in Arizona back in 2013, when the Cardinals went 10-6 after a 5-11 season.
"I'm really, really pleased. Tom Moore came in as a consultant and he and I were sitting down talking about that first year in Arizona and then this first year here and the difference," Arians said. "And, you know, (sigh), Mike Evans is in Larry's caliber as a receiver, you know, but there's no Larry Fitzgeralds [in Tampa]. But we've got some weapons and then Jameis is, he's that eager younger guy than Carson [Palmer] who was a vet. And when we got Carson it legitimized our whole team, the whole locker room, because we had a really solid defense. [In Tampa,] it's more like, 'Hey, let's build that defense up.' And Todd's doing a great job of that. But Jameis, I'm really happy with him."
Joe's got confidence in Jameis and, frankly, Arians is still learning about Jameis. They really didn't have any significant relationship before he arrived, no matter what you've read elsewhere.
But Jameis does have a lot to prove to Arians, who has coached so many great QBs, and to Bucs fans and likely ownership that have a very short fuse when it comes to more losing.
---
What does Derrick Brooks think of the swap of Gerald McCoy and Ndamukong Suh? You'll find out on this edition of TAMPA TWO, presented by Caldeco Air Conditioning & Heating!! It's another A+ production from The Identity Tampa Bay and JoeBucsFan.com.