Pulse Of The Fans – Training Camp Day 1
July 26th, 2019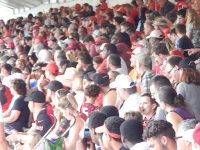 Today, JoeBucsFan.com went around asking fans a few questions about the team heading into the 2019 season.
Here's the pulse of the people:
Question 1: What are two main thoughts you have on the coaching staff heading into this season?
Summary — Fans are pumped about the Bucs bringing Bruce Arians aboard! One of the most consistent answers was that the fans believe B.A. can and will elevate the play of Jameis Winston. Another thing fans are anxious to see is what Todd Bowles does with this defense. Many believe in him as the new coordinator but want to see what he does as this defense has let the team down for too many years now.
Question 2: Do you still believe in Jameis Winston to be this team's franchise quarterback heading into Year 5? Provide one reason why or why not.
Summary— Not a single fan that said "no" to this question. The overwhelming feeling was that Arians was brought to Tampa to fix Jameis. Many fans believe he is going to do just that. Bucs fan Ravi Panchigao had this to say about Jameis: "I do believe in him still as long as Arians is here. I believe that if this doesn't work out with Bruce Arians, I don't know what will happen with him. I believe Bruce Arians is the right man to help Jameis become the best Jameis he can be."
Question 3: Give one prediction for the 2019 Buccaneers, whether it be a prediction for an individual player or the team as a whole.
Summary— This question certainly led to a mixed bag of answers, and all were positive. One was improvement and a true breakout season from Peyton Barber. Another was a 10-6 record and a trip to the playoffs. Another was that the Bucs would be better than many people in the national media expect. But the best came from Bucs fan Lisa Thompson. When asked for her prediction for the 2019 Bucs, she said, "Super Bowl."
Manbeast JoeBucsFan.com Zach Seifter was all over this project today and typed up the work above.