Key National Media Dates At One Buc
July 24th, 2019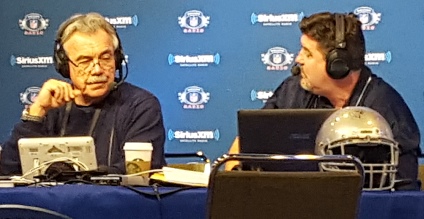 Buccaneers fans love when the national media pays very close attention to our beloved team.
Of course, they prefer it be after Thanksgiving, when fans typically are all hot in the pants for early NFL Draft talk because the Bucs already are out of the Super Bowl hunt.
Let's hope that tradition takes a hiatus this year like it did in 2016.
So far, the Bucs are drawing some interest. Credit the arrival of Bucco Bruce Arians.
Pontificating Peter King of NBC Sports, the former Sports Illustrated super insider, is visiting 22 teams this year on his famous annual training camp tour. And the Bucs made the freakin' cut. In fact, King is devoting an entire day to Tampa, Tuesday, July 30. (Some of his stops will be joint practices.)
Then on Wednesday, August 7, the SiriusXM NFL Radio "A-team" will be broadcasting from One Buc Palace, Jim Miller and Pat Kirwan. The NFL Radio training camp tour hits all teams, but the Bucs are getting a dedicated day. For example, the day before the Bucs broadcast, NFL Radio will be at Giants, Ravens and Panthers camp simultaneously.
Joe is happy for Bucs fans who eat this stuff up.
That SiriusXM NFL Radio date is two days before the Bucs' preseason opener in Pittsburgh, so there's a great chance the team will be having a no-pads day. Still, the exposure is nice and it will have a few more eyeballs scrutinizing that Steelers-Bucs game, which will be broadcast nationally on NFL Network.
---
Presented by Caldeco Air Conditioning & Heating, TAMPA TWO with Ira Kaufman and Derrick Brooks is back as training camp is in sight. Brooks takes you inside of the nuances of camp as only he can in this The Identity Tampa Bay and JoeBucsFan production.
Enjoy!