Bill Polian Tells Bucs Fans Why They Should Be Happy And Leery
July 24th, 2019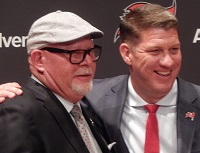 Last night as Joe mowed down cauliflower puffs and watched the Rays give away another game, Joe also listened to SiriusXM NFL Radio and watched the NFL Network Top-100 series on another screen.
Hall of Fame general manager Bill Polian was on NFL Radio and a Bucs fan called in to almost beg Polian to provide a reason to be positive about the Bucs.
Polian obliged and went right to the man he worked with for several years in Indianapolis, new head coach Bucco Bruce Arians.
"Tremendous coach, tremendous motivator, tremendous organizer, great offensive mind who can get blood from a stone, so to speak. He's a guy who can develop quarterbacks," Polian said of Arians.
So does Polian think Arians can turn America's Quarterback, Jameis Winston, into a top NFL QB? Polian isn't betting on it.
Polian harped on what former Bucs general manager Mark Dominik often does when he talks about Jameis. The Bucs franchise QB has a poor touchdown-to-interception ratio. The goal is 3-to-1 but 2-to-1, per Polian, "is the most you could possibly tolerate, and he's not been there."
Cam Netwon doesn't have a 2-to-1 touchdown-to-interceptions ratio through his career. But he has done it in a season (35 TDs vs. 10 picks in 2015); Jameis has not. And Newton also has run for 58 touchdowns, so that has to be factored in. Matt Ryan and Drew Brees are among the best in the NFL at TD-INT ratio.
Polian believes Arians will get more from Jameis but he cautioned Bucs fans that Jameis was coached very well by Dirk Koetter.
Of course, it's all talk right now. A lot of answers, hopefully, will be forthcoming by Halloween.