"I See Guys In There On Off Days Trying To Watch Tape & Stuff"
July 14th, 2019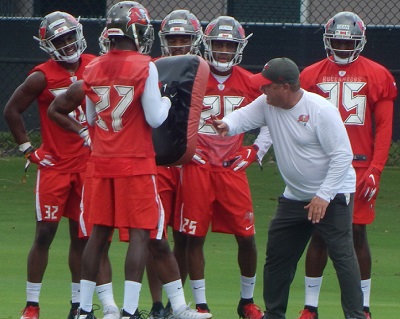 Joe loves, loves, loves to be positive about the Buccaneers.
But too often incessant losing, mind-numbing moves and bad luck get in the way of those warm and fuzzy feelings.
Once upon a time, a Bucs official got on Joe's ass about negativity on these pages. Joe's quick response was simple: "the team has lost 17 out of 20 games." And Joe added that this website would be ground zero for Bucs cheerleading if/when the Bucs show signs of being good again.
Well, things haven't gone so great (although Joe's traffic on these pages continues to explode and draw the attention of intelligent industry observers).
Is real improvement coming to the Bucs this season? Joe's feeling good about that tonight listening to the words of former Bucs offensive coordinator and current QB coach Clyde Christensen.
He talked to manbeast JoeBucsFan.com intern Zach Seifter last week and shared his quick impressions of the rookies drafted to lead the overhaul of the Bucs defense.
"I think those guys will kind of be the foundation of this thing," Christensen said. "I see a lot of enthusiasm. I see guys flying around. I see guys wanting to learn. I see guys in there on off days trying to watch tape and stuff. And those are good signs. Those are good signs. If you can build around your draft picks, then you got a chance to do something for the long haul."
Amen to that.
The Bucs had a strong draft class in 2015 and they couldn't capitalize for a variety of reasons. Hopefully, this year's edition is another "grand slam," or at least a triple that can mark the beginning of sustainable success.