Michael Irvin Talks To Joe
July 15th, 2019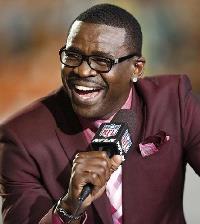 "The Playmaker" is pumped!
Joe is cleaning out his voice recorder of interviews conducted earlier this year as we inch toward training camp. One such interview Joe enjoyed while fighting with other NFL reporters to squeeze a question in was with Hall of Fame receiver Michael Irvin.
Irvin, currently an NFL Network analyst, is totally psyched to see the magic that Irvin predicts between Bucco Bruce Arians and Mike Evans. When Joe asked Irvin about Evans, Irvin got so excited he began slapping the table in front of him the way Joe envisions some Bucs suit slapping a conference table selling others on the deranged concept the team was better off without Michael Bennett and how the team should walk away from him (for no good reason).
Let's just say when this Hall of Fame wide receiver is stoked about a guy who is putting up Hall of Fame numbers, it is real recognizing real.
JoeBucsFan: What do you like about Mike Evans?

Michael Irvin: Aw, everything! I love the big fella. I love the big fella, ya know? He is a phenomenal wide receiver. And I thought about that coming out [in the draft]. Remember when he came out with Sammy Watkins and all of those guys? When he came out it was all about Sammy Watkins. And I like Sammy. I like Sammy. But I kept saying, 'Man, I'm taking Mike Evans first.' I said it then.

They were trying to make you think that Johnny Manziel was making Mike Evans. I was telling them, 'No! Mike Evans was making Johnny Manziel.' Because he was just throwing that thing up and he would come down with it. I was like, "Listen — listen! You guys got this wrong. That dude is making this dude. This dude isn't making that dude.'

That was a bad dude and he is still a bad dude. I can't wait. You know what? Of all the things I want to say I am looking forward to [this] year, I will say I am looking forward to that the most: To see what Bruce Arians will do with him. Now you have a master with master talent. Boy! I can't wait to see that. To see the style he did with Larry [Fitzgerald] and emotional like he did with Larry to push him, to make him do some blocking. He will push him.

I cannot wait to see what Bruce Arians does with that kind of talent.
For Joe this is a forgotten aspect of what Arians will do with the Bucs. Folks constantly connect Arians to America's Quarterback, Pro Bowler Jameis Winston. And there's a big reason why.
But lost in all the chatter about what Arians can or will do for Jameis is the notion of what Arians will do with Evans.
This should be fun!