Film Strain For Bruce Arians & Company
July 14th, 2019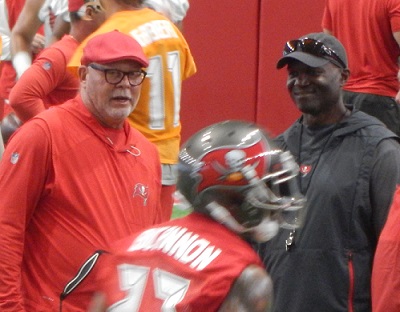 A man who might be the greatest Buccaneer in the history of the free world, Mr. Derrick Brooks, shared very interesting insight into the Bucs' new-look training camp on the way.
Head coach Bucco Bruce Arians is proud of his biggest-in-the-NFL, 30-person coaching staff. In fact, it may be the largest in NFL history.
But Brooks implied that it might not be big enough. It was a great point crystallized in the recent edition of TAMPA TWO with Brooks and Sage JoeBucsFan.com columnist Ira Kaufman.
Arians has two practices simultaneously on two fields when it comes to camp sessions of 7-on-7 and 11-on-11 work, as well as other areas of training. That means double the film work for coaches, Brooks noted. So while the staff is big enough to coach up players on the spot versus waiting until getting practice film and addressing problems, all that film still needs to be scrutinized in the same manner and that will eat up a lot of manpower.
Brooks said his time spent at Bucs spring practices left him liking how players get so many reps and chances to show they learned from their mistakes. And he noted how much the split staff moved around and had time with all players.
Brooks doesn't see that as divisive. "Communal involvement," Brooks called it, adding Arians spent one entire practice with the "Field 2" players, primarily occupied by all the youngsters on the current 90-man roster.
Joe found the film-study angle intriguing. That is a real strain on a staff through the camp grind. It's also more work for Jason Licht's pro personnel staff, too.
One day, Joe will look up how Arians' teams fared in the second half of preseason game. One would think all that extra work for the camp meat, compared to other teams, would translate to strong performances.