Day 4 Training Camp Notes & Nuggets
July 29th, 2019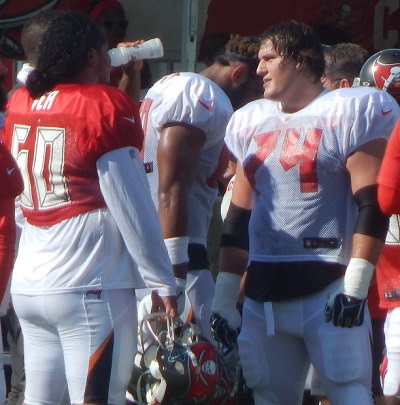 Joe and manbeast JoeBucsFan.com intern Zach Seifter were dialed in to the on-field happenings today at One Buc Palace. Here's plenty to chew on:
*The pads were cracking in a slightly abbreviated session for the Bucs. Lightning moved the team inside the Glazer Shed and Bucco Bruce Arians said after practice that he could have gone to the outside fields midway through but didn't feel like it.
*Donovan Smith is back in pads today after sitting out yesterday with what Arians referred to as an Achilles issue, Smith returned with limited reps.
*Two veterans taking the day off today. Right tackle Demar Dotson and defensive tackle Ndamukong Suh were both sporting shorts and sneakers today inside the Glazer Shed. Arians said afterwards that it was just veteran maintenance.
*In front of a pumped crowd, the Bucs begin 1-on-1 battles between cornerbacks and receivers. Ryan Smith faces off against Bryant Mitchell. After the play, Smith appears shaken up, limping on the sideline. He shakes it off and quickly returns to action.
*The first 11-on-11 session gets underway and there is live tackling!
*Noah Spence lines up across Donovan Smith and gets no push. Smith completely stands him up. Jameis, with a clean pocket, fires a sharp pass to Justin Watson, but Carlton Davis closes in and breaks up the pass.
*Later in the session, Ronald Jones finds daylight and takes off on an outside pitch to the right side. After gaining 10 yards, RoJo is blasted by safety D'Cola Dixon! First big hit of the practice.
*Soon after, a serious trench battle between Vita Vea and Donovan Smith. Bowles has Vea line up at right defensive end, but Smith holds his own and stones Vea as Jameis completes his pass to receiver K.J. Brent for a solid gain.
*The players clear the field as the next episode of the kicking battle begins! Matt Gay is up today and he hits his first eight kicks, ranging from 23 to 48 yards. On his last kick, he lines up from 61 yards out. His kick has the leg, but it sails just wide right.
*11-on-11 play continues, and the Sage's favorite offensive lineman, the Earl of Watford, faces off against Carl Nassib on the right edge. Nassib shows off his engine and power as he pushes Watford back and Nassib eventually breaks off him and makes a move towards the quarterback. Nassib couldn't quite get there but Noah Spence brutalized Caleb Benenoch on the other side and definitely would've had the sack.
*Ryan Griffin in now and he quickly throws a pick-six! Rookie safety Mike Edwards jumps in front of Griffin's pass over the middle and takes it back for the touchdown! Defensive teammates chase Edwards into the end zone and they all quickly plop onto the ground in a line and do a touchdown celebration. It looks as though they are emulating a roller coaster ride as they sway back in forth with their hands in the air while screaming.
*Now the offense is running a full drive against the defense. The first team is on the field and after getting a quick first down, Jameis is pressured by Devin White. White gets in Jameis' face, forcing a quick throw. Jameis tries to find Barber on a screen pass to the left but it is intercepted by defensive lineman Jeremiah Ledbetter! A win for the defense on that series.
*After a field goal drive by the second-team offense, the first team comes on again and Barber gains eight yards on a first-down carry. On 2nd-and-2 from their own 33-yard line, the offense runs another screen play. Jameis looks for Andre Ellington but Lavonte David comes swooping in with incredible speed to break up the pass.
*The offense keeps driving but is later forced to punt.