Liking Rookie LB
July 29th, 2019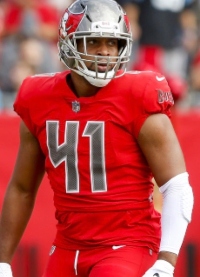 Entering his seventh NFL season, Bucs linebacker Kevin Minter has seen a lot. And thus far, he likes what he sees and hears from Bucs rookie linebacker Devin White.
So far the defense has been holding its own if not dominating the Bucs offense through four practices, the last two with pads and today's with tackling.
And while White, the No. 5 overall pick in April's draft, may not be flashing much, Minter sees a guy who is going to be a force in the near future.
"He's a lot further along than I'm pretty sure most guys would expect," Minter said. "He is just soaking up knowledge. Everyday, man, he is getting better. And he's humble, man. He's not afraid to ask to questions and you know you love helping a guy like that."
The wild thing is so far, Bucs defensive backs are giving the talented Bucs receivers a fight. They are driving Bucs quarterbacks nuts. Defensive linemen are largely stealing the lunch money from the offensive linemen. Outside linebackers are racing in to destroy the pocket.
Inside linebackers Lavonte David and White really haven't been much of a factor at all through four practices.
Once David and White start flashing, this defense may just be a top-20 defense.