"It's My Job To Lead These Guys"
June 6th, 2019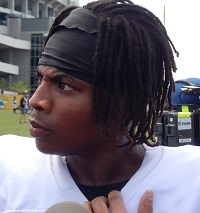 BY ZACHARY SEIFTER
JoeBucsFan.com intern
The man head coach Bucco Bruce Arians has praised — and poked — since March is healthy and ready to roll for training camp.
He's also ready to lead.
Vernon Hargreaves is entering his fourth NFL season and still remains a question mark. Plagued by injuries and incompetent coaching from Mike Smith's staff, the 2016 first-round pick out of Florida has yet to show what he is truly capable of.
Despite all this, he is the anointed leader of the secondary as he is the longest-tenured Buc in the backfield. It's a role he is happy to take on.
"I have to because I'm definitely the oldest in the room." Hargreaves replied today when asked if he is embracing the leadership role. "Playing-wise I've probably played the most, you know, even with the missed season. It's my job to lead these guys and I'm taking that full responsibility."
That leadership translated to a strong offseason from the young secondary. While one may argue it's just underwear football, Arians is impressed. He's been so impressed he made the claim that the secondary is "totally fixed."
Many of these young guys haven't taken a snap in a real NFL game. But they've shown enough that Arians and even Hargreaves have complete confidence.
"Of course, they were drafted for a reason," Hargreaves explained when asked if he expects the strong offseason performance to translate to the regular season.

"[Jason Licht and Bruce Arians] did a good job of picking exactly who they wanted. [The rookie DB's] are big, they're long, they can all play, they're athletic. There's going to be an adjustment period as always, but they'll be fine, they'll be fine, they'll figure it out."
An adjustment period is expected, but it's on Hargreaves to make sure it's as smooth as possible. If he can't do that, then they might not be fine.
And neither will this defense.