"Love The Linebackers & Their Communication"
June 6th, 2019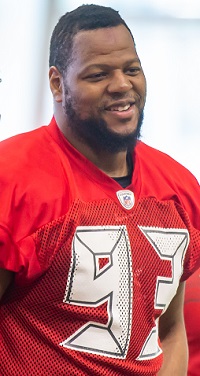 No. 93 was talking today after practice at One Buc Palace.
The second question fired at manbeast defensive tackle Ndamukong Suh asked to say what he likes about the defense he joined just a few days ago.
"Love the linebackers, their communication," Suh replied. "I think the ability to get after the quarterback is huge, not only with more than multiple guys but also with the front. I'm excited about that."
Joe was so darn please to hear Suh first mention the linebackers. That's so huge considering Devin White is a rookie and Lavonte David is a 3-4 inside linebacker for the first time.
Suh went on to saying he'll "get my bearings" first and then later look to help coach up young players.
The versatility in Suh that Bucco Bruce Arians raves about seems to suit him just fine. "My best fit is wherever they need me to be. It's as simple as that," Suh said.
Of course, real football hasn't been played yet and Suh has a lot to prove to fans. Today Arians said he hasn't learned much about Suh yet. "A big smart guy who knows how to practice in shorts, " Arians called him, noting Suh's resumé is the best guide until training camp begins.
You can enjoy the full Suh news conference below. Media was scattered talking to various players, so there wasn't much of a crowd.