"It's A Lot Easier Than It Used To Be To Flip It"
June 3rd, 2019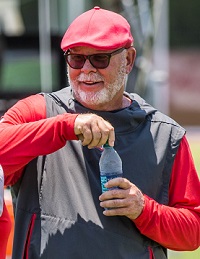 Bucco Bruce Arians was talking today.
Joe was listening and got a distinct visual of Arians talking to Team Glazer in the hours (seconds?) after (before?) Dirk Koetter was launched from his coach's office.
There was Arians, calm and cool on the FOX-13 airwaves this morning, talking to Charley Belcher about winning with the Bucs — in a hurry.
"It's a lot easier to than it used to be to flip it," Arians said of making an NFL team a winner.
Injuries are a factor, Arians added, but when accountability is flowing through an organization and players work for each other, great things happen fast, he said.
Man, Joe loves how Arians is fearless with his public displays of confidence. It's refreshing around here.
The head coach also told Belcher about how "it'll be intense" at the three-day, mandatory minicamp that kicks off tomorrow.
The Bucs will add five or six veteran tryout guys to the sessions, "looking to see if we can churn the bottom of the roster," Arians said.