"A 50,000-Watt Personality"
June 3rd, 2019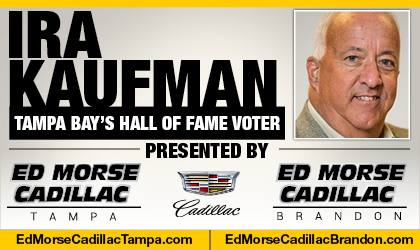 BY IRA KAUFMAN
The tears and the laughs flowed in equal measure Sunday at Feather Sound Country Club.
One by one, they grabbed the microphone and shared personal stories about their time with Steve Duemig, the sports-talk king of Tampa Bay radio who died of a brain tumor last month at the age of 64.
The Bucs were represented by Director of Football Operations Shelton Quarles and Mike Alstott, who credited Duemig for embracing him as a rookie in 1996.
Once Duemig joined powerhouse station WDAE that year, he solidified his reputation as the most influential voice in the Bay area.
Over the years, Buc fans realized he had his favorites in Alstott, Derrick Brooks, Raheem Morris and Josh Freeman. His Monday afternoon monologues following Buc games were instant classics, well-crafted and designed to provoke. He was an equal-opportunity agitator, taking on players, coaches … even listeners.
J.P. Peterson, a long-time Tampa Bay voice on TV and radio, said Duemig once gave him sage advice: don't be afraid to be hated.
That was Duemig's professional creed, and it showed three hours a day, five days a week. The man was fearless.
Who else in Bay area media had the audacity to take on Joe Maddon when the Rays were winning 90-plus games and making the playoffs?
Nobody.
I thought of that when I canvassed the room Sunday and spotted Rick Vaughn, former communication director for the Rays. For years, Vaughn listened as Duemig trashed Maddon for his out-of-the-box ideas that included pythons in the clubhouse and themed road trips.
At times, Duemig's ire extended to his listeners.
There were many Tuesday afternoons when the phone lines weren't lighting up at the WDAE studio and Duemig had to fill time. He would keep talking until he reached his breaking point, then he would speak
directly to his audience:
"You freakin' people," he would shout, his voice trailing off.
Duemig wasn't perfect. At times, he got too close to athletes in the community and that clouded his judgment. As Freeman was going off the rails at One Buc Place in 2013, Duemig's support never wavered.
Result? Ratings spiked.
Super Tradition
I always enjoyed sitting down with The Big Dog on Radio Row at the Super Bowl. WDAE sent him for the entire week, but the Tampa Tribune usually kept me grounded until a few days before the big game. Once I arrived in town, Duemig was eager to set up a time for us to chat on air about the upcoming Hall of Fame meeting to select a new class.
He was fascinated by the process and his passion for the Bucs was evident.
As a rule, Duemig's show didn't feature many interviews with local or national sportswriters. He'd rather talk to the athletes or the decision-makers, and who wouldn't?
But I can remember several years when our segments on Radio Row went far past their allotted time. Duemig would tell me to keep my butt in that chair, informing his producer that we were coming back together after a commercial break.
There were several times we filled an entire hour. In radio land, that's an eternity.
Looking around the room Sunday, it was obvious that Steve Duemig made a lot of friends. One of them is Tony Bruno, like Duemig a native of Philadelphia. Bruno is a veteran of 40 years in talk radio who considers the Bay area his second home.
Bruno gave a heartfelt tribute to his buddy and it was nice to see Nanci Donnellan, the "Fabulous Sports Babe" who once worked with Duemig.at WFNS 910-AM.
Many of the laughs were generated by Lightning founder Phil Esposito, whose rambling 15-minute tribute focused on Duemig's knowledge and enthusiasm for hockey.
While it's true that WDAE's powerful signal is a formidable weapon when it comes to establishing sports-talk supremacy in this market, you also need a 50,000-watt personality.
Whether you loved his combative style or tuned in to hear just how wrong he could be, Steve Duemig knew how to command your attention.
He had your ear, and we won't see his like around here ever again.
This dog had bite.