"I'm Home Baby"
June 5th, 2019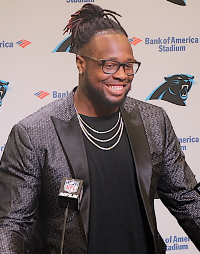 Joe had mixed feelings seeing this.
Former Bucs stud defensive tackle Gerald McCoy joined the Stinking Panthers and made it clear he wanted to play for a contender.
So yesterday when McCoy signed his contract and held a presser in Charlotte, GMC took to the turf of Bank of America Stadium and did his famous Batman flyover as he often did after sacks.
As GMC did his Batman moves, he hollered, "I'm home baby!" This from a man who bragged he would come back to Tampa and "I will retire as a Buc."
"I'M HOME BABY" – @Geraldini93 pic.twitter.com/D4h34XRR71

— Carolina Panthers (@Panthers) June 4, 2019