"Give This Guy A Running Game To Play With, He Should Be A Heck Of A Quarterback"
June 5th, 2019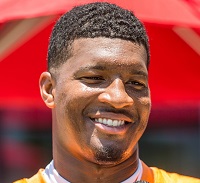 Head coach Bucco Bruce Arians was pumping out all kinds of thought-provoking takes on ESPN.
Joe shared a few Arians gems already, including Jason Pierre-Paul possibly needing until Dec. 1 to return, as well as Gerald McCoy not fitting with the Bucs, and Devin White taking command of the defense within a week.
Arians was slinging it well Friday afternoon TV, when he also was asked about working with America's Quarterback, Jameis Winston, and what the focus is for the franchise quarterback and the offense.
"It's been easy," Arians said of working with Jameis.

"You don't have to be Superman every time you drop back and try to make some miraculous throw. The running back's your best friend. Use your checkdowns more … Just don't throw it to the other team because you're forcing something because you think you have to make a big play."

"Make the field goals but play better red zone and keep what we've been doing as far as pushing the ball up the field. Give this guy a running game to play with, he should be a heck of a quarterback."
That last sentence really had Joe running head first into blunt objects.
It's not that Joe disagrees, but Jiminy Christmas, the Bucs' didn't do anything to upgrade their woeful rushing attack. No significant offseason additions at running back or offensive line.
If Arians can't produce a running game this season and the offense regresses, then Joe could make a great case for an immediate regime change. And that's not being too drastic. Hopefully, Arians will provide Jameis a decent running game through better coaching. It certainly can happen, but it sure would have been easier with a talent boost.
Perhaps that's still coming? Hello, Duke Johnson.