"I'll Make Sure He Hears From Me"
June 12th, 2019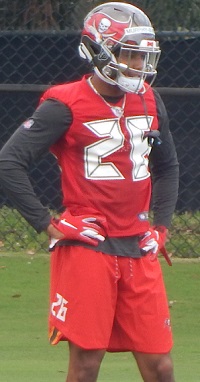 Yes, head coach Bucco Bruce Arians said he fell in love earlier this year.
And no, he wasn't referring to the gargantuan check Team Glazer cut him to leave rural Georgia and head to Tampa.
Arians dropped that reference about rookie cornerback Sean Murphy-Bunting, the Bucs' second-round pick. After Arians watched film on the rookie and met him, the head coach was smitten, so he told the Ira Kaufman Podcast this week.
Murphy-Bunting, the pride of Central Michigan University, seems to fit Arians' desired mold: smart, aggressive, versatile and loaded with confidence.
Chatting with Kevin O'Donnell of FOX-13 during minicamp last week, Murphy-Bunting suggested his in-practice interception of America's Quarterback, Jameis Winston, was perhaps a lesson for Jameis rather than for him.
Good stuff in this FOX-13 video below.
Joe talked to Murphy-Bunting last week, as well, and Joe asked about his summer plans. The rookie proceeded to rattle off all the places and people he would be training with to prep for training camp — not a whiff of down time or a cruise, or even a fun-filled trip to Vegas.
Bucs rookie CB Sean Murphy-Bunting came up with 2 interceptions during minicamp today. He's not your average rookie, very polished. Bruce Arians says this year's group of rookie DB's are very mature. Very solid interview, confident and a great personality. @MrSeanyB1 pic.twitter.com/svi0AFEcwq

— Kevin ODonnell Fox13 (@ODonnellFox13) June 5, 2019