"If You Utilize It Properly"
June 15th, 2019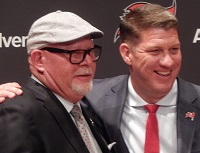 Talking to Joe recently, Bucco Bruce Arians succinctly summed up the key to every successful NFL team.
Think free agency is the devil?  Don't be silly. Just pick the right freakin' guys. And certainly don't sign players who are extremely selfish.
Think rookies need time to develop? They do. But pick the ones who can hit the ground running, like Atlanta did with its three key rookie defensive cogs during their Super Bowl run of 2016. And like New Orleans hit the trifecta in 2017.
Most important of all, per Arians, get your core veterans buying in 100 percent to the coaches.
Speaking on ESPN early this month, Arians said it's much easier these days to "flip it" in the NFL, meaning to take a team from good to bad. The standing every January bear that out. The NFL has multiple garbage-to-playoffs teams every season, and they're damn proud of it.
On a recent Ira Kaufman Podcast, Joe asked Arians to explain why the flip is so much easier, and if change is on target in Tampa.
"With the new rules and the turnover in rosters, free agency, the draft, all those things, if you utilize it properly and the core guys in your locker room buy into the change, it's an easy flip. Now the hardest part is that core locker room buyin' in so they can flip the young players to what you want as a culture," Arians said.

Is the flip part of it on schedule in Tampa, Coach?

"Oh, I couldn't anticipate it being any better right now just watching them work. Because they're showing up, first of all they didn't have to show up. They show up, they work, and when they work, they work extremely hard. And we're getting better and smarter at it as we go along."
Joe's buying in. And Joe believes Arians in this case, unlike when he said "there's no doubt" Ryan Fitzpatrick would be an asset in his quarterback room, as well as other nonsense heard during the NFL silly season.