A Transforming Battle
June 15th, 2019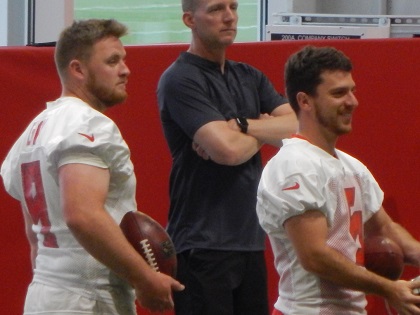 Listening to Bucs rookie kicker Matt Gay talk yesterday, it sounds like the high-profile Tampa Bay kicker battle is about to go from friendly affair to an-I-wanna-kick-your-ass showdown.
Manbeast JoeBucsFan.com intern Zachary Seifter, the pride of Plant City and a proud Gator, was 1-on-1 with Gay and asked if his winner-take-all competition with Cairo Santos had any animosity to it.
Gay said they get along great and he's learned from Santos, but it's all about to get very serious.
"It's an interesting vibe, right, because I mean he's a great guy," Gay said of Santos. "You're with him all the time. You're a specialist and you kind of hang out with the specialists, so you're there. But I think for him as well, in the back of your mind, there's only one spot. So it's nothing that's animosity or anything. I mean, you want what's best for him. I want him to land a job but there's only one. Eventually, I mean, it's going to be one of us. You kind of have to have in the back of your mind that you're coming for the job and he's coming for the job, and you both know that."
Joe is so eager to see how this plays out in August. Joe just hopes it's a fair fight. It would be a shame, for example, if the Bucs kept Gay over Santos because of his draft status.
Both kickers are hitting the ball well, Gay said, and that's all Joe could ask for. And yeah, Joe would not rip the Bucs if they decided to keep two kickers for a little while. This kicker mess has to be solved this season at all costs.