"I Don't Give A Sh*t If They're Rookies"
June 6th, 2019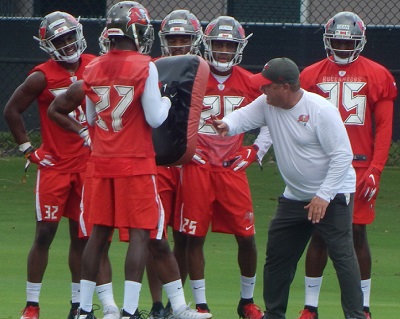 Head coach Bucco Bruce Arians loves his secondary.
Heck, he explained last week that it is "totally fixed" on the heels of a terrible 2018 season. On Wednesday, Arians dove into why he's so pleased.
"The number of balls they touch and the communication," Arians said. "I'm hearing a lot of communication. And like I said, we've got five corners, three or four safeties … that's a really unique situation. I don't give a sh*t if they're rookies. These guys can play. They're getting their hands on a lot of balls doing things that veterans do because they listen and they're smart. And the veterans are helping them out and they've got very good coaching."
Yes, Arians loves how rookie cornerbacks Jamel Dean (third round) and Sean Murphy-Bunting (second round) have raised the level of speed and overall play through spring practices. Throw in safety Mike Edwards (third round), and the "fix" is in.
Arians has been around long enough to know rookies contribute in a big way every year across the NFL. And of course, he knows what it should look like on defense.
But it's still just June. The major concern Joe has is that it appears the Bucs will be banking on four rookies on the defense to come up big, as well other very inexperienced players.
That's a big gamble for a team almost desperate to start the season strong to make its way to a 3-3 record at the bye week against a tough schedule.