Mentality, McCoy & Motivation
June 5th, 2019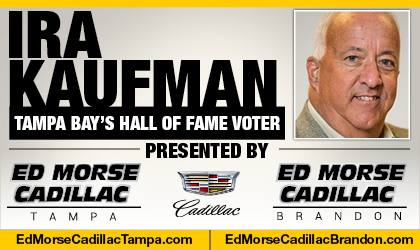 BY IRA KAUFMAN
Gerald McCoy isn't fooling anybody, especially Demar Dotson.
Entering his 11th season, Dotson is the only Buccaneer who had more seniority than McCoy, the polarizing defensive tackle who just signed with the Panthers.
McCoy had also visited the Browns and Ravens before deciding on Charlotte as his next destination.
Why Carolina?
Playing for Ron Rivera doesn't hurt, The last time McCoy worked under a defensive head coach, he posted 8 1/2 sacks for Lovie Smith in 2015.
McCoy is also surrounded by some serious defensive talent, with linebacker Luke Kuechly and linemen Mario Addison, Kawann Short, newcomer Bruce Irvin and FSU rookie end Brian Burns helping the cause.
Charlotte's weather in the fall and winter is preferable to Baltimore or Cleveland, but there's more. McCoy won't admit it, but the opportunity to stay in the division and extract some annual payback at the expense of his former organization is compelling.
"I was sitting around a few days ago," Dotson told me after a mandatory minicamp practice. "I know Gerald, man, and when I heard Carolina was in the mix, I said he's going to choose Carolina. Why not? Why not get a chance to come and play us twice a year and wreak havoc? I would.

"You know for sure I get to play this team two times that let me go. They got a good ball club over there. It's up to us to stop him. We can't allow it to happen. I would have that same mindset. If I had a chance to go to Carolina and play against a team that cut me, that's motivation."
Tampa Bay's offensive line will prepare for McCoy and company ahead of a Thursday night matchup in Week 2. But starting in late July, Dotson's group will butt helmets every scorching day with McCoy's replacement, Ndamukong Suh, who will be wearing that familiar No. 93 in training camp.
"Suh's gonna make us better with the mentality he brings," Dotson said. "I know how hard he goes and how physical he is. I know how hard he is to move. If he brings that same mentality to practice, it's going to make everyone on the offensive line better."
Dotson is the first to acknowledge there's plenty of room for improvement up front. This team hasn't run the ball a lick since Lovie Smith departed and Buc fans are wondering whether the problem has been personnel or coaching.
"Last year, we had a great offensive line coach in George Warhop," Dotson said. "It was down to each individual guy doing what you're supposed to do. It ain't the coaches' fault."
Bruce Arians has come in with a sprawling staff and a succinct message: all this losing stops now.
"Every coach tries to bring their mentality to the team," said Dotson. "I've been through five of 'em. I think B.A. is trying to instill toughness mentally. Lots of things we did last year to beat ourselves — not knowing the situation, the details. That's stuff we need.
"It comes down to the players buying into it. This is my 11th season and I don't mind buying into the head coach around here. I know I have to respect leadership. Been lots of guys who like to do things on their own, not buying into the way a coach asks you to do. That's being a pro."
The Bucs are determined to forge a new identity. McCoy is determined to address an old wound. Demar Dotson is determined to give playoff football a try.
Open the gates. Let the games begin.