"He's Not Lyin'"
June 18th, 2019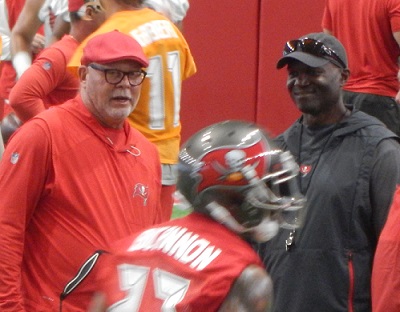 Bucco Bruce Arians made one wild and bold statement about the Bucs three weeks ago and one of the great Buccaneers of all-time is backing up the claim.
You heard it or read about it. Heck, it completely stunned Joe.
Arians was hit with a very simple question after a late-May practice. A reporter asked him to name a position group, following 10 days of OTA sessions, that surprised him with its performance.
The head coach had a quick answer.
"Yeah, probably secondary, we're really, really good," Arians said with extra energy in his voice. "With Carlton [Davis] and Vernon [Hargreaves], we knew we had two solid corners. Now we got five solid corners. Ryan [Smith] came along. So yeah, earmarked as a problem set back in January, it's totally fixed. Just knock on wood they stay healthy."
"Totally fixed?" With three rookies and Ryan Smith developing? Manbeast JoeBucsFan.com intern Zachary Seifter asked Pro Bowl receiver Mike Evans about that claim during an exclusive interview on Friday.
Evans gave his blessing to the very young secondary.
"He's not lyin'," Evans said of Arians calling the secondary totally fixed.

"They look like they fit right in. They don't look like rookies. Corners and safeties, our young guys are looking really good. They brought a lot of energy to practice, as well as the veterans. Our defense just looks revitalized, like they have new life."
Evans went on to rave about the speed of the defense, calling it the best he's seen in Tampa, though Evans was clear that real practices in training camp are a different animal.
Regardless, this is all very encouraging stuff.
---
MEET IRA KAUFMAN & FEAST ON FREE FOOD
Thursday, June 20, at Ed Morse Cadillac Brandon, 5 p.m. to 7 p.m.
Friday, June 21, at Ed Morse Cadillac Tampa, 5 p.m. to 7 p.m.
Come celebrate the rollout of the all-new Cadillac XT6!
RSVP by clicking a logo below. Casual fun with Ira at beautiful Ed Morse Cadillac showrooms.
---