Mike Evans Talks Devin White
June 26th, 2019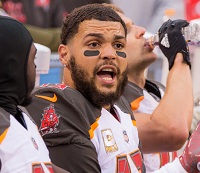 Yes, rookie Devin White has been anointed savior of the Bucs defense in his role as defensive playcaller and manbeast linebacker with a "once-in-a-lifetime" attitude.
So what does Mike Evans think about the No. 5 overall pick and the young blood around him?
He answered that question during an exclusive interview after minicamp with JoeBucsFan.com intern Zachary Seifter .
"I love his game," Evans said of White. "You know, his position, you need to see more like game-time things because the linebackers need pads on to tackle and stop the run, and fit the run and stuff like that. But he's been looking good. He's vocal out there. He's bringing energy as well as, like I said the [defensive backs] are bringing energy. He's bringing a lot of it, as well. He knows all the plays. Like, our rookies don't seem look like rookies; like they barely mess up. And when they do, they get it corrected right away. He's flying around. He's makes plays. I'm looking forward to seeing what Devin White can do."
Yes, optimism is flowing around White. Hey, it's fun.
Joe loved what Evans said about the rookies as a whole — that they don't look like rookies. What a compliment, and a real clue that the Bucs might have found a couple of players among their first four draft picks of 2019.