Bruce Arians: Devin White Has "Once-In-A-Lifetime" Attitude
June 24th, 2019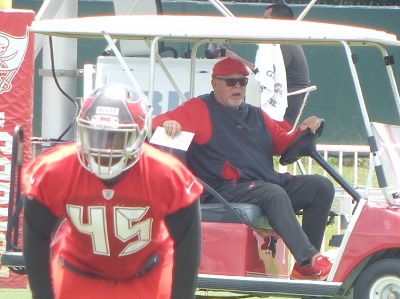 Yeah, there's a little pressure on rookie linebacker savior Devin White.
Make that a ton.
His big shoulders have the giant weight of the Bucs' work-in-progress defense upon them. It's White's defense now. And head coach Bucco Bruce Arians believes White is unique qualified to take on that responsibility.
Consider this classic exchange with Arians and Sage JoeBucsFan.com columnist Ira Kaufman.
Ira Kaufman: Bruce, any concern, and I know you're going to say, No. But, you're putting a little burden on that No. 5 pick, Devin White, and I know you feel he can handle it. But Bruce, a kid who hasn't even signed his first pro contract is supposed to be the face of the defense. Any concern too much, too soon for Devin White?

Bruce Arians: No, not at all. You're right. He's come in; he's so mature. You know, and he's in great condition. He's extremely bright. He loves it. You know, you get these guys once in a lifetime. They all got physical skills, but they don't love it. I mean, they wouldn't do it for free. This cat would do it for free as long as he can ride his horses. … … Some guys just have that, so don't be afraid of it. Tyrann Mathieu walked in; he wasn't afraid of it. Now we had Patrick Peterson, we had Calais Campbell, no, he took over. Now he had really smart guys around him to help him, too, which we've got some guys like that.
Joe can't wait to see White against real competition when the Bucs' preseason kicks off August 9th in Pittsburgh. All this big talk is a bit much for Joe too digest.
A once-in-a-lifetime player wearing Bucs colors? It's been a long time.
This all has Joe in a vintage Kelly Clarkson mood.