Derrick Brooks Explains Bruce Arians' Alumni Engagement Is Real & Strong
June 30th, 2019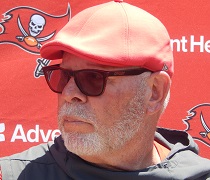 Joe's heard a lot of rather empty talk from former Tampa Bay head coaches about their interest in welcoming ex-Bucs into the mix at One Buc Palace.
After being hired in January, Bucco Bruce Arians immediately went down that road and Joe was skeptical.
Well, Derrick Brooks made it clear that Arians is backing up his words. During an appearance on the Ira Kaumfan Podcast, Brooks said he got a call from Arians — to rally the troops.
"I'm a little nervous about going [to practice] because I may want to get out there and perform and sign another contract," Brooks joked. "But yes, Coach Arians has definitely asked me to assist in really reaching out to our alumni and getting more involved with our players. So we're going to take him up on it.  And you're going to see, this coming fall, at lot of players at practices lending whatever professional assistance they can. But I just think that he wants to embody the spirit of family, engagement, guys that invested into this game [having] a small way of giving back to this current team. I look forward to being part of the process."
Joe loves this stuff. Leadership within a team my be overrated, but coaching certainly isn't. If Brooks and Arians can recruit the right ex-Bucs to impact players in small ways, that can add up in a hurry.
Joe hopes Brooks' former teammate, left tackle Donald Penn, gets a call. The former Bucs and Raiders Pro Bowler might be done for good at 36 years old, coming off an injury and unemployed. So he could be free for a summer visit to One Buc Palace.
Joe chatted with Penn at the Pro Bowl a couple of years ago, and it was clear then that Penn keeps a close eye on his beloved Bucs.
Just based on Joe's conversation that evening, Joe can say with confidence that Penn would have very clear and impactful messaging for Donovan Smith, if given the opening in a guest-coach setting.
And yes, if you missed it, Warren Sapp is on his way.