Bucs O-Line Coach Talks Pro-Game Challenge
June 29th, 2019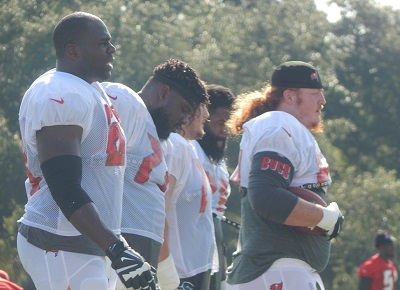 The Bucs didn't draft an offensive lineman this year and definite starters Donovan Smith, Ali Marpet, Ryan Jensen and Demar Dotson have a combined 24 years of experience.
Without question it's a veteran line. And in the case of Smith and Marpet, former Bucs offensive line coach George Warhop was their only professional O-line coach in a system that didn't change through four seasons.
Joe brings this up on the heels of late-night study of new Bucs offensive line coach Joe Gilbert, a guy whose six-year NFL resume includes success during the early years of Andrew Luck in Indianapolis. But things got very ugly in a hurry on the Colts' offensive line.
Luck literally was beaten up and missed the entire 2017 season because of it. Gilbert was demoted and then let go, before a one-year return to the college ranks last season.
Joe found an interview of Gilbert at the University of Arizona last year in which he talked about the difference in college and pro coaching.
Gilbert explained that he learned over time that a professional O-line coach can't come in and say, 'We're going to do it this way.'
Why? Because players have varied experience and, per Gilbert, he learned veterans who have "played under different coaches and [were] taught different things" don't respond well to a this-is-how-we-do-it mentality.
"You gotta kind of adjust with that. And that's a learning phase," Gilbert said of his pro coaching philosophy.
Frankly, this scares the heck out of Joe.
What Gilbert is saying is understandable, but it also seems a little odd for a coach to admit that he's not comfortable — or successful — in laying down new approaches from Day 1.
Joe hopes and believes the biggest thing needed for the Bucs' O-line, outside of a new right guard, is a mentality change. And hopefully, that's not something that was approached lightly or slowly by Gilbert.