Bucs Training Camp Already Underway
June 29th, 2019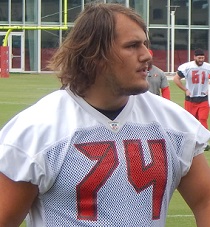 FOX-13, the wise TV channel that employs JoeBucsFan.com columnist Ira Kaufman on its pregame show during football season, also has a reporter who is all over the Buccaneers beat.
He's Kevin O'Donnell, who also is known for hunting down players outside of One Buc Palace.
O'Donnell did just that this week.
He found a handful, plus former Tampa Bay linebacker and current Redskins captain Mason Foster, busting their butts with the help of trainer Yo Murphy, the retired Bucs receiver.
It's an organized effort, not some sort of touch football and beer session.
"It's been rough all week and all summer really, but that's indicative of what it's going to be like during training camp," said Ali Marpet, who added that his true off time is in the winter, not this time of year.
Enjoy the FOX-13 video below: