A Battle Of Will
June 28th, 2019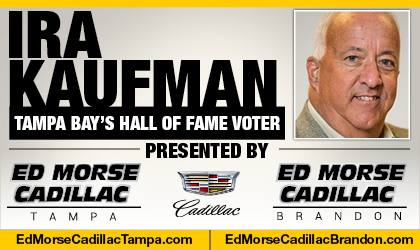 BY IRA KAUFMAN
In six months, Buc fans hope to refer to Joe Gilbert as Hercules. The man's got some heavy lifting to do.
Tampa Bay's new offensive line coach has been reunited with Bruce Arians after a six-year separation and he is tasked with forging a dynamic front.
Gilbert's predecessor, George Warhop, is now in Jacksonville, where Doug Marrone labels him "one of the best offensive line coaches in the league. We're really fortunate to have him."
Buc supporters tend to disagree, especially after Warhop failed to develop a cohesive unit for most of his five-year tenure in Tampa. Arriving with Lovie Smith in 2014, Warhop struggled to find the right combination. Tampa Bay never generated a Top 10 scoring offense with Warhop, ranking 12th, 18th twice, 20th and 29th.
The big problem was a ground game that fizzled every season except 2015.
During Warhop's run at One Buc Place, Tampa Bay averaged less than 4 yards per carry and barely averaged 100 rushing yards per game.
So here comes Joe Gilbert, with a clean slate and a dirty little secret.
"Someone's got to win a 1-on-1 block," he says. "We can't double-team every guy inside. Me against you, who wants it more? It may not always be pretty, but I've got to instill my will over you to beat your ass."
For more than a decade, Buc fans have longed for a badass football team. An array of coaches have talked about it, but on fall Sundays, the Bucs are rarely tougher than the rest.
How do you measure physicality?
Effort Called Out
In the NFL, it starts with running the ball efficiently. It's about running for 4 yards on 3rd-and-3 to protect a lead in the final minutes. It's about knocking people backwards and establishing a dominance at the line of scrimmage.
Gilbert turned in some impressive work last year as offensive line coach at the University of Arizona. The Wildcats led the conference in rushing and ranked No. 2 in total offense, but this is the NFC South, not the Pac-12.
This is where the Bucs will face DeForest Buckner, Nick Bosa, Kawann Short and Gerald McCoy within the first two games.
The Bucs have a lot of money tied up at center and the left side of Gilbert's line. The starting right guard spot is wide open while right tackle Demar Dotson, the team's longest-tenured player, is considered a better pass protector than run blocker.
Looking at the 2018 cut-ups, Gilbert saw an offensive line that routinely failed to sustain blocks.
"Guys were just not finishing," he says. "They were there, but they didn't finish."
Before returning to the college ranks last year, Gilbert spent six seasons working with Indy's offensive line. He worked with Arians in his first year with the Colts (2012) before Arians moved on as head coach of the Cardinals.
Gilbert's holy trinity for his linemen? Play smart, play physical, finish.
"We're not putting a guy on the moon," he says, "but if can get all five guys blocking the right people …."
That's been a major issue around here since Bill Muir was screaming at Jeremy Trueblood, imploring him to open up better holes for Earnest Graham.
A month removed from training camp, Gilbert says he likes the intelligence and athleticism of his group. Tampa Bay didn't address the offensive line during the draft, but Gilbert praised the brain trust for following the board.
"We didn't reach," he says. "The last thing we want to do is go for a guy that doesn't fit what we're going to do."
If Gilbert can help Arians restore some balance to this Buc offense, Jameis Winston will have every opportunity to flourish. It sounds so simple up front — take your man where you want him to go.
Face down on the grass sounds like a good place to start.