Why Does The NHL Want The Sharks To Win The Stanley Cup? — A Dan Patrick Story & More On The Todd Wright TODDcast
May 16th, 2019
Podcast (toddcast-todd-wright-podcast): Play in new window | Download | Embed
Subscribe: RSS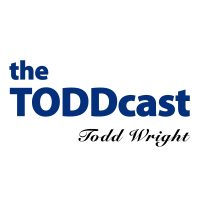 In episode 24 of The Todd Wright TODDcast, Todd asks the simple question: Why does the NHL want the San Jose Sharks to win the Stanley Cup? Based on the odd, yet consistent, pattern of how Sharks games are being officiated, Todd wants to know why it makes sense for the league to present the Sharks their first championship this year.
.
Todd also offers a true story about his early ESPN days and a sitdown with the great Dan Patrick that was a key moment in Todd's life. Speaking of Mr. Patrick, Dan recently talked about how a flaw of modern sports talk is the obsession with the "hot take." Todd has the perfect topic as a timely example of not necessarily having a strong opinion either way: An NFL Draft Lottery. The TODDcast is presented by
Brandon Legal Group
and by
Pin Chasers
.
Click above
to listen or to download. Or listen on
Google Play
here
.
PRESENTED BY