The Bucs & Diontae Johnson
May 16th, 2019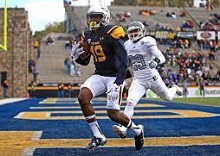 Draft lovers and hardcore fans love, love, love to know what their favorite team's draft board looked like.
It's rare to get a good glimpse.
Who did the Bucs like in the draft? Who did they not?
Well, perhaps a piece of insight comes from Jake Arians, the former NFL kicker and son of Bucco Bruce Arians. Joe went through the recent TD Fantasy podcast co-hosted by the younger Arians and, while he rarely talks about the Bucs, he did say he knows the team was very high on the University of Toledo receiver that went to the Steelers in Round 3, Diontae Johnson.
Johnson, was a standout returner in addition to his receiving ability. Pittsburgh traded up in Round 3 and snagged him four slots before the Bucs traded down and out of their third-round pick with the Rams, who proceeded to draft Memphis running back Darrell Henderson (Yes, typing that makes Joe a little ill).
Jake Arians is close with his dad, and Bucs general manager Jason Licht has said publicly that he is a good friend of Jake. So Joe absolutely trusts Arians' sources.
Would the Bucs have drafted Johnson if he were there?
Another name to watch and think about as this 2019 season unfolds.
---
Derrick Brooks: "Clearly, Everybody At One Buc Place Was Not Happy About That Decision"
The dynamic TAMPA TWO duo is back! Hall of Famer Derrick Brooks and Sage JoeBucsFan.com columnist Ira Kaufman are talking about how the Bucs were dealt a blow last month and its impact going forward. TAMPA TWO is presented by Caldeco Air Conditioning and Heating.
Great stuff from The Identity Tampa Bay and JoeBucsFan. Enjoy!!