Analytics And The Bucs
May 16th, 2019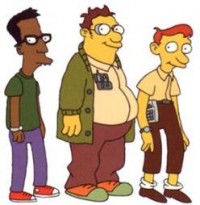 Joe is not a big analytics guy. Oh, Joe finds some deep data like NFL NextGen stats very useful and enlightening, but they come with a cost.
Just look how the geeks have destroyed baseball. Joe's a baseball guy but it is becoming unwatchable and is frankly illogical. These Ivy Leaguers who run baseball ,who never swung a bat past Little League, get their briefs bunched up over bunt singles (oh, do they howl!) yet they celebrate walks and frown on steals. They encourage hitters to hit into shifts with unlevel swings and shrug their shoulders at strikeouts. It's insane!
(The worst is when a cheerleader home team play-by-play announcer cackles how a strikeout is a "good at-bat" — in what world!?)
"This Joe" does not follow the non-basketball association whatsoever but in reading stories through osmosis has learned that analytics may be behind the heave-a-three-pointer-fad that has (allegedly) taken over the game. Joe also read once where a coach was asked if maybe his team shoots too many three-pointers since his team was a poor-shooting squad and the coach mocked the reporter for not knowing analytics.
Hoo, boy.
Despite this, Joe does find some of the deep stats that discover trends somewhat enlightening (and no, not what the Pro Football Frauds only pump out free so they can slap grades on everything from the snot dripping out of a guard's nose to the amount of puke a running back tosses after getting drilled in the stomach).
Now Joe knows Bucs AC/DC-loving general manager Jason Licht is an analytics guy (how much he is influenced by the numbers is unclear) and employs numberscrunchers at One Buc Palace. A story in The Athletic by Ben Baldwin goes deep into what he describes as the NFL's "dark web."
Baldwin talked to a couple of hardcore math guys who learned computer code and started running NFL teams' play-by-play data into a software that NFL spreadsheeters use, as in those employed by the NFL. Joe wonders if the Bucs believe in the trends these guys have unearthed.
One trend the keyboard tappers have revealed is too spend little cash on kickers. In short, Baldwin learned kickers are so volatile that consistency from year to year is almost a crapshoot.
What isn't a crapshoot?
Well, another trend Baldwin found was that passing efficiency is a much bigger tell of success than running the ball. Also, the numberscrunchers Baldwin spoke with for the story each say teams get much more bang for their buck by investing in quarterbacks, wide receivers and offensive tackles than any other positions.
Who are the five highest-paid players on the Bucs' roster? America's Quarterback, Pro Bowler Jameis Winston, Mike Evans, Jason Pierre-Paul, Gerald McCoy and Donovan Smith.
While Joe finds these intricate stats and buried trends somewhat interesting, Joe sure hopes the glorified accountants don't take over the game and bastardize it like they have baseball (and from what Joe understands, basketball too). Joe has seen what this crowd has done to baseball and it is a far less entertaining game.
And yes, sports are entertainment. If you are not entertained, then what the hell is the point of watching or paying attention?
Entertainment is, in part, emotion. Numbers are dry, stale, fully emotionless and in many cases boring to the bone. Unless of course you win the lottery or have a lot of zeros on your paycheck.