Too Many Cooks In The Kitchen?
May 31st, 2019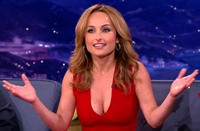 Voices in the night. Who does Jameis listen to?
Joe wonders if America's Quarterback, Pro Bowler Jameis Winston, hears all the voices at night battling for his brain. You know, the many voices he hears during the day.
There's golf-cart-riding Bucco Bruce Arians, there's offensive coordinator Byron Leftwich, there's quarterback coach Clyde Christensen and now there is consultant Tom Moore.
That's four guys potentially pulling Jameis all sorts of different ways, maybe pulling him in different directions.
Have you heard of the phrase "too many cooks in the kitchen?"
(When it comes to Giada De Laurentiis there is only need for one cook.)
Well, it seems Arians is very much aware Jameis might have too many coaches in his head and has taken measures to try to avoid confusion for Jameis.
"I have to watch to make sure there's not too many voices and Clyde in the room [with Leftwich and Moore]," Arians said after underwear football practice Tuesday. "I stay out purposely, and Tom just sits there and observes."
As Joe has written before, no matter what Jameis does this year, you cannot say he isn't being coached.
Perhaps one could say he's being coached too much. Time will tell.