Start With No. 50
May 16th, 2019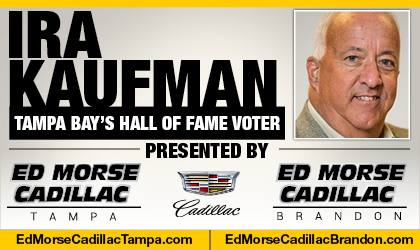 BY IRA KAUFMAN
He was drafted to be Tampa Bay's version of Haloti Ngata.
Now's the time.
As Tampa Bay's dreary 2018 season progressed, Vita Vea showed signs that he's a keeper. He started making plays in the backfield, manhandling centers and guards after Jason Licht and the coaching staff suggested he play with more physicality.
To say the Bucs need him to make an impact this fall is akin to saying Tampa Bay's schedule is a tad challenging. With Jason Pierre-Paul recovering from a fractured neck and Gerald McCoy's status uncertain, it is Vea who needs to show the way up front for a battered defense
Ngata's shadow hangs over a 24-year-old defensive tackle who blocks out the sun and will be tasked with taking on two blockers when the Bucs utilize their new 3-man front.
Vea is used to playing in heavy traffic after lining up at nose tackle in the University of Washington's 3-4 alignment and wrecking offensive game plans.
If Todd Bowles is determined to build this defensive scheme around the talent available at One Buc Place, he needs to start with No. 50.
Slowed by a calf injury three days into training camp, Vea started the final six games as a rookie and provided Buc fans with some hope. He posted three tackles for loss against the 49ers and was credited with nine tackles against the Ravens.
That's a big number for any interior lineman.
Triple Threat
In retrospect, that calf strain on the first day pads came on was far worse than anticipated. Vea was expected to miss a few weeks, but he didn't suit up until Week 4 of the regular season, an embarrassing loss at Chicago.
Vea kept struggling to disengage from blocks until he got the message — you're not in the Pac-12 anymore and you need to raise your game.
Bruce Arians, who has compared Vea's imposing size and skill package to Ngata's, saw enough on tape to dream a little dream about the big man, especially after watching him on the field.
"Well, he can play three positions for sure," Arians says. "He can play five techniques, he can play three techniques and he can play nose. For him, I had to say, 'whoa', I hate to say 'sic 'em', but I like saying 'whoa', and for him just 'whoa, slow down right there, you don't need to be knocking guys back into the quarterback today.' He's a very, very talented young man and does lots of things."
Ngati is a heck of a role model.
Like Vea, Ngati was selected with the 12th overall pick of his draft class (2006). He made five consecutive Pro Bowls for the Ravens, registering 18.5 sacks in that span while averaging 53 tackles and 10 QB hits.
Twice, Ngati was voted one of the NFL's Top 20 players and he earned two first-team All-Pro honors as Baltimore's immovable object in the middle.
Ngati retired in March and now Vea is poised to walk in those big cleats.
Is it fair to expect a second-year pro to play like an elite defensive lineman? No, but who said anything about being fair?
This defense needs some young players to show why they were drafted with premium picks. Vernon Hargreaves comes to mind, along with Vea, Justin Evans and Noah Spence.
Vea can make a huge difference, working in front of Lavonte David and Devin White while keeping them clean to showcase their quickness to the football.
The NFL has seen the last of Haloti Ngata. He's done. An outstanding career has come to an end.
Vita Vea is just getting started.
Ira Kaufman began covering the NFL as a New York Giants beat writer in 1979. He arrived on the Buccaneers beat in 1985, and the corporate leash finally was removed from his neck when he joined JoeBucsFan.com in July 2016. The award-winning Ira Kaufman Podcast fires twice per week, and Ira's columns appear thrice weekly, except when Ira is on special assignment. All of Ira's work is presented by Ed Morse Cadillac Tampa and Ed Morse Cadillac Brandon. Tampa Bay's only Hall of Fame voter also is a popular guest on various national radio and on local TV. Don't miss him weekly on TAMPA TWO with Derrick Brooks, a production of The Identity Tampa Bay and JoeBucsFan.