It's Official; Ronde Next For Ring Of Honor.
May 7th, 2019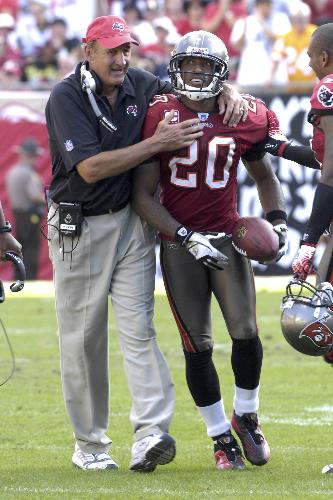 UPDATED: Jenna Laine of ESPN said last night she was told your 2019 inductee into the Buccaneers Ring of Honor will be iconic cornerback Ronde Barber.
This morning, the Bucs made it official.
"Rondé Barber personified greatness on and off the field during his 16 seasons as a Buccaneer and we look forward to honoring his remarkable career this upcoming season," said Buccaneers co-chairman Bryan Glazer. "His achievements are as impressive as they are long, but Rondé's most defining qualities were his ultra-competitive nature, his passion for this game, and his love of the Tampa Bay community."
Sunday, September 22, is the game, a 4 o'clock game against the Giants. Likely, Barber will be calling the game for FOX with his twin brother Tiki as the sideline reporter. They did some games together last year.
Monte Kiffin? Hardy Nickerson? James Wilder? Not this year.