Donovan Smith Implies A Tougher Spring In Place Under Bruce Arians
May 7th, 2019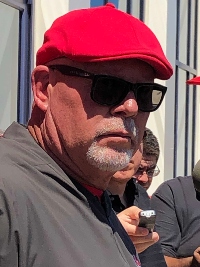 Last spring, Joe had 1-on-1 time to talk football in a unique setting with a Buccaneer who once played for a coach known for running tough, physically taxing practices through spring and summer.
Joe asked the player to compare those sessions to Dirk Koetter's.
The guy laughed. Koetter's spring sessions, he explained, were like a high school gym class compared the other head coach's intense running.
Man, Joe wishes it was an on-the-record conversation. It wasn't, but the point was very clear.
Things were comparatively soft under Koetter, but Joe can't know what that really means. Koetter's Bucs teams were always ready for opening day. In fact, they were 3-0 on opening day under Koetter. And all three were impressive victories, including two on the road.
Still, Joe must wonder whether Koetter being a little soft on his player led to them being soft mentally.
Under Bucco Bruce Arians, Joe has heard things are tougher than last year. Speaking on WDAE-AM 620 yesterday, Donovan Smith emphasized that practice has been tough and he referenced the team running 20 sprints or 20 circuits of some form one day.
He also noted that new offensive line coach Joe Gilbert has everyone's attention. "Gilbert likes to yell a little bit, but then he smiles about it," Smith said with a chuckle, referring to how Gilbert gets a little wild while coaching technique.
Bucs players now have had five weeks with Arians and friends, and they've got the most compact spring training schedule in the NFL kicking off next week.
Hopefully, Arians finds a way to sharpen the Bucs' work habits and re-shape their mental approach to the game.