Practice Observations
May 11th, 2019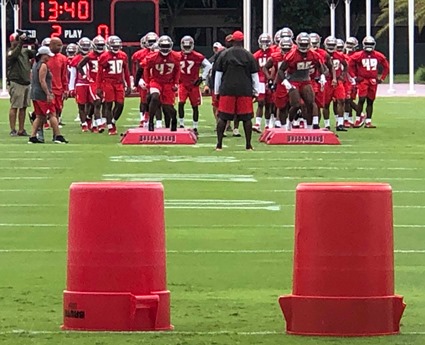 If Bucco Bruce Arians is as demanding and precise with players as he is with assistant coaches, it can only help the Bucs.
Of course Joe was out at the first rookie minicamp practice yesterday. What else would Joe do? But it was a typical, mundane underwear football practice. It's really like watching a high school flag football game only the dudes are bigger and quicker.
You can't really glean a whole lot from it because there is no hitting. So outside of defenders trying to break up passes and soon-to-be power line installers throwing passes, it's hard to gauge what is what.
A few brief observations:
*Defensive line coaches were having players with their hands in the dirt hit sleds while coaches used a football on a broomstick to mimic the snap of the ball. However, defensive line coach Kacy Rodgers was often using a hard count. That's when a quarterback screams a snap count very loudly in an effort to draw a defender offsides. This is also a way to get defensive linemen to watch the ball and not listen to the cadence of the quarterback (Joe's looking right at you, Swaggy Baker). Details, fellas, details.
* Bucco Bruce Arians was cruising around in his Bobby Bowden golf cart. The Bucs were mostly using two fields and Arians would zip from station to station, park his cart, observe the players and then zoom off to another station. Periodically, Arians would get out of the cart, have a few words for a player or players or a coach, and then get back on the cart.
* Rookie inside linebacker Devin White is fast as lightning. There was a play where a pass from former Nevada quarterback Tyler Gangi (no, not that Gange) was thrown short to the left side of the field. Joe couldn't see who White was covering but he was a blur. If you pretend White was a receiver, the pass was thrown behind him. Still, White adjusted in a blink of an eye, skied and reached high for the pass and got two hands on it but couldn't pull it in for a pick.
Still, that was one of the most physically impressive plays Joe has seen a defender make in underwear football.
* The rookies got lucky. Despite it being a hot afternoon, there was cloud cover for much of the practice and for a brief time, a few raindrops. It could have been worse.
* Arians said today will be the final full practice of rookie mini camp. Tomorrow, the rookies will go through light workouts before being sent home, several for good.