O-Line Loafing Called Out At One Buc Palace
May 4th, 2019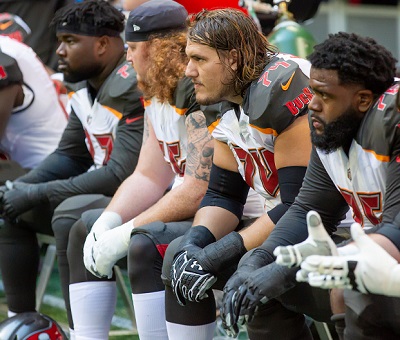 An offensive line with members who sleepwalk through, say, two snaps out of 65 per game, that's a recipe for losing.
'Play to the whistle' is as basic as it gets when it comes to O-line coaching.
If you can't bust your ass for six seconds before taking a breather, then raise your hand and let a substitute come in. If you're just not into it, well, then that's up to coaches to police.
The Dirk Koetter regime didn't seem to care. A loaf here, a loaf there, "Your guys are your guys," Koetter would say.
In fact, Joe can't recall Koetter ever questioning his line's effort. Joe, however, called out clear loafs multiple times.
The film doesn't lie.
In what was an incredible breath of fresh air this week at One Buc Palace, O-line coach Joe Gilbert said last year's film showed the Bucs offensive linemen didn't finish enough plays. That's coachspeak for loafing. He even detailed that they were often in position but just didn't finish.
Bucco Bruce Arians already outlined how loafing will be handled, and Joe suspects he wasn't joking and the players know it.
The first step, as always, is admitting there is/was a problem. Gilbert went there, and Joe feels great that change is really on the way.