Key Data On The Week 2 Thursday Night Football Matchup
May 17th, 2019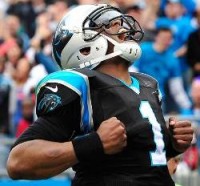 BY ZACHARY SEIFTER
JoeBucsFan.com intern
The Bucs go to Carolina to face the Panthers on Thursday Night Football in Week 2, the eighth time TNF will be held during Week 2. If the Bucs want to win, all they have to do is see what the last seven winners have done.
Start fast.
Not one of those winners trailed at halftime. If the Bucs want to come back to Tampa victorious, they better be ready to go come kickoff.
Slow starts doomed the Bucs for the past three seasons. They can't afford to have one doom them this season.
Two of their first three games are home against the 49ers and Giants. The game in between at Carolina may be their toughest test of the three-game stretch.
This could be a statement game for the Bucs. It's a chance to get a divisional win and build momentum.
In the latest episode of TAMPA TWO, Bucs legend Derrick Brooks shared those feelings when the Sage, JoeBucsFan.com columnist Ira Kaufman, asked if having a primetime game so early in the season was a positive or a negative.
"I think it's a positive because of how the season went last year," Brooks explained. "Teams get a chance to look at you early, and now you build momentum."
It's an opportunity the Bucs shouldn't take lightly, as four of the seven teams that won those Week 2 matchups went on to make the playoffs. Denver would win the Super Bowl in 2015.
Interestingly, the Bucs-Panthers game will be only the second time the Week 2 TNF game will feature NFC teams. The first was in 2012, when the Packers beat the Bears 23-10.
In all, the road team has gone 3-4 in those Week 2 Thursday night games.
What do the Bucs have to do to make it 4-4?
For one, they better take care of the football.
The losing team in those matchups committed three or more turnovers in five of the games. The Chiefs lost the ball five times in a 31-24 loss to Denver in 2015.
If the Bucs protect the ball, control time of possession and start fast, they may get a win and momentum early in the season.
Looking at the rest of the schedule, they're going to need it.
In the spirit of Kramerica Industries, JoeBucsFan.com has a college intern for a few months. It's a true rarity. In addition to soaking up wisdom from The Sage of Tampa Bay sports, Zachary Seifter has a pile of Bucs knowledge himself and you'll see some of his work here occasionally.