"I Like Taking Jobs"
May 2nd, 2019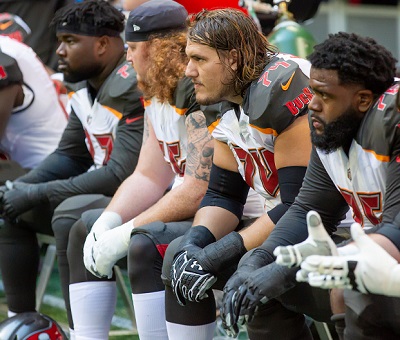 There's a new energy at One Buc Palace.
And while much of that comes from the Bucco Bruce Arians' army of coaches, some of the juice is from Arians' handpicked players.
Joe's referring to the guys who played for Arians previously. Linebacker/moneybacker/safety Deone Bucannon, he's one of those guys. Arians has said he knows Bucannon will work and set a tone.
Joe assumes this tone will be different than the one that came along with the Dirk Koetter/Mike Smith men brought to Tampa, such as Bernard Reedy, Jacquizz Rodgers, Cecil Shorts, Robert McClain and Brent Grimes. Yes, Joe Hawley had an Arians-man kind of edge for a while until his body broke down.
One new Arians-friendly soldier is versatile offensive lineman Earl Watford. In a league desperate for O-line talent, Watford quickly was signed by the Jaguars and O-line guru Doug Marrone in free agency back in 2017. But he didn't make it until opening day; the Jags waved goodbye to Watford and the signing bonus they gave him.
A month later, Arians went to the streets and brought back Watford to the Cardinals. He made nine starts but the new Cardinals regime didn't want him back for 2018. Last year, Watford sat in free agency for a few weeks before the Bears came calling. They cut him in August and Cleveland picked him up.
When the free agency dinner bell rang this year, the Bucs signed Watford quickly for $870,000 and more than half of that was guaranteed, per Spotrac.com. Joe's not surprised Watford jumped all over that guaranteed cash.
Anyway, Watford, 28, is talking a great game on Twitter. Joe loves when players engage with fans. And Watford was doing just that Monday, making it clear he's not here to make friends.
there is a reason why I'm here. It'd be a waste of time to sign me if I wasn't going to work and do the job I'm paid to do at the highest level. Could've drafted or signed 10 guys. Competition is fun and I like taking jobs.

— Earl Watford (@EWatts78) April 30, 2019
Joe loves the mindset.
Hopefully, Watford stays healthy and has a good summer. Maybe, just maybe, he's the kind of guy who will get in the faces of line mates he sees loafing. Better yet, hopefully the loafing is over thanks to Arians' policy for addressing effort.