How Physical Can The Bucs Be?
May 31st, 2019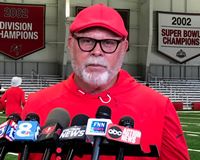 One reason the Bucs haven't been good the past two years (at least) is they haven't been a very physical football team.
Too often, the Bucs either got worked on the line of scrimmage or couldn't match an opponent's physicality. The defense was so bad, a powderpuff team could have been more physical.
Will that change with Bucco Bruce Arians running the show?
Of course, we are in the middle of underwear football season and only the mandatory minicamp next week remains in underwear football season, plus the first few days of training camp. It's hard to tell if a team can be physical if they can't hit anyone.
Today, Arians was asked about physicality. He believes there are signs in underwear football that reveal a team is physical.
"That part's really hard," Arians said of determining how physical a team may be. "We talk about being smart, fast, and physical – the physical part will have to wait. You can only do so much in shorts. But, I like the attitude and what we're practicing, and I see that transferring over to pads very, very [well]."
Of course, Arians is already raving that the secondary is already fixed. Color Joe less than sold. And Joe is still paranoid the Bucs will have little to no pass rush, which may make Arians' proclamation for the secondary look bad.
Having a team that doesn't get worked over by more physical teams could help compensate for holes in the roster.