GMC's Sin? He Wasn't Warren Sapp
May 21st, 2019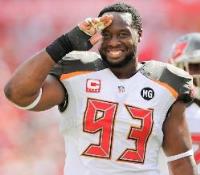 The way folks reached to find excuses to claim Gerald McCoy was somehow no better than kneeling Akeem Spence blows Joe's mind.
Joe cannot think of a player in any city in any sport that played as well as GMC did and was so hated. You would have thought the guy cussed out fans who wanted his autograph, or he had a rap for slapping around prostitutes.
But Joe learned it wasn't results that many Bucs fans wanted, it was image. Style over substance. A cartoon character. And GMC's Batman-worshipping ways were not the images these same Bucs fans wanted; damn the results.
They wanted a knuckle-dragging, nuts-kicking, eye-gouging, arm-stomping, blood-sucking animal as a defensive tackle. Instead, they got GMC. And so many fans held that against him so badly it blinded them.
No, GMC was not Warren Sapp, a transcendent player who won a ring with the Bucs  People seemed to personally hold that against GMC  God forbid someone isn't a Hall of Fame player
Joe remembers all too well talking to offensive coordinators and head coaches and general managers at the NFL combine each year trying to find out if GMC was truly as bad as some of his haters believed him to be. These same people who made seven-figures a year working in football would all look at Joe like he had three eyes, especially when Joe would recount the stories of how Bucs fans couldn't wait to get rid of GMC.
And that day came yesterday.
Sadly, GMC, who personified sportsmanship, will never get the full respect he deserved from many Bucs fans.
Again, they didn't like his personality and it blinded them. There wasn't a thing he could do for these people that would have gotten them to lay off.
Except to leave, which is what happened yesterday.
This nonsense that GMC was solely responsible for losses was and is a joke. If you want to go baseball WAR, like so many people want to do when they freak out on GMC, Lavonte David had a worse win-loss record than GMC, yet David seemed to get a complete and total pass, even though he too is a nice guy.
Until two years ago, the beloved defensive tackle Aaron Donald, a future Hall of Famer, had a worse WAR than GMC. Joe didn't recall any Rams fans wanting to run him for the Rams' ineptitude. Same with Browns fans. They embraced left tackle Joe Thomas for being the lone bright spot in a miserable organization.
No, GMC never took a snap in a playoff game (yet). Joe blames this on the Bucs organization largely being incompetent over the past Lost Decade.
Bucs fans blamed GMC.
You know who else never played in a playoff game? Dick Butkus. Say his name in a bar in Chicago and you can literally hear the angels sing and watch the sun part the clouds.
Joe is guessing Lee Roy Selmon couldn't play in the 21st century. He always helped up opponents and constantly worried he would hit quarterbacks too hard. He has a bust in Canton if you don't know.
Personally, Joe doesn't give a damn if a player on his time off plays with Batman dolls, plays with matches or plays with himself so long as he produces on Sundays.
GMC produced. And for reasons that are not quite clear to Joe, it was never enough for too many Bucs fans.