Doug Martin Gets Another Shot
May 1st, 2019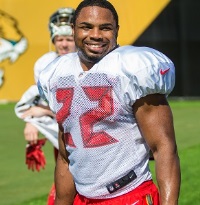 After 723 rushing yards for the Raiders last season, his best since 2015, former stud Bucs running back Doug Martin hit the free agent market and found no takers.
But it appears an injury has saved the day.
The Raiders signed Jets castoff running back Isaiah Crowell a month ago, seemingly to replace Martin. And then they drafted Alabama RB Josh Jacobs in Round 1 of the NFL Draft on Thursday night. So it certainly appeared that Martin was permanently off Chucky's I-love-that-guy list.
Well, Crowell blew out an Achilles in spring practice recently and Martin was re-signed today, returning to Chucky's comforting bosom.
Now 30 years old, Martin was once honored by the Bucs with a massive likeness of himself covering a corner of the Den of Depression. He kept in great shape this offseason, per social media video, and he'll get another shot to keep his career alive. Joe's happy for him.
Martin also represents one less veteran running back on the street if something happens to Peyton Barber (heaven forbid), who the Bucs will rely on extremely heavily this season.