New World Order Is Under Construction
May 1st, 2019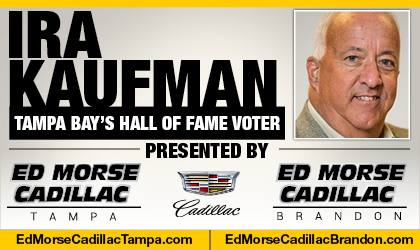 BY IRA KAUFMAN
Whether it's your money-market account, your golf swing or your Pilates class, flexibility can be a beautiful thing.
Tampa Bay's defense, rigid and soft at the same time, is about to get a jolt with the arrival of this new coaching staff. That's because Todd Bowles and his endless array of assistants intend to major in subterfuge this fall.
The old Tampa 2 has been dead and formally buried at One Buc Place, where Bowles is poring over his roster in an effort to maximize everyone's skill set.
No longer will Buc opponents know with almost virtual certainty how this defense will line up. That worked in the glorious Cover 2 days because Derrick Brooks, Warren Sapp, John Lynch, Simeon Rice and Ronde Barber were that good.
Here we come, do something about it.
By necessity, Bowles has a different idea. First off, do you see five potential Hall of Famers on this defense?
Instead, the Bucs will mix and match all season long. You will see different starters, different schemes and different alignments – all designed to generate different results.
"There's no set way we're going to play this defense," Bowles said Wednesday before yielding the podium to Tampa Bay's defensive assistants.
Safety Rules
There's a new world order formulating within the walls of One Buc Place. You might see Deone Bucannon lined up at outside linebacker on second down and dropping back to safety on third down as one of seven defensive backs on the field.
You might see M.J. Stewart at both slot corner and free safety. Don't look now, but there's Stewart closing in as a blitzer or Carl Nassib dropping back into coverage.
Flexibility. Versatility. Options.
Those are the touchstones for Bowles, who spent two seasons orchestrating the defense for Bruce Arians in Arizona before joining the Jets as head coach 2015.
In 2013, the Cardinals ranked seventh in scoring defense and sixth in total defense with Patrick Peterson, Tyrann Mathieu, John Abraham, Calais Campbell, Darnell Dockett and Karlos Dansby leading the way for a 10-6 club.
Arizona made the playoffs the following year, ranking fifth in scoring defense. Only three of 16 opponents generated more than 20 points against the 2014 Cardinals, raising Bowles' profile.
The 4-year Bowles era in New York didn't end well and his defense didn't meet expectations, but now all of his focus is on one side of the ball, with a minimum of distractions.
We saw how Dirk Koetter's attack was so well balanced in 2015 when he served as Buc offensive coordinator. In three years as a head coach, Koetter couldn't produce an effective ground game.
"Obviously, I have a lot more time … it's just defense right now," Bowles said. "So defense is what I eat, breathe and sleep. It'll be maybe two times more than I had as a head coach."
There is at least one similarity between the Buc defense with John Lynch and the current group.
"The safeties in Todd's defense basically run the defense," said Nick Rapone, who will coach a young group of safeties this fall.
That adjustment will take some time because third-year pro Justin Evans looks like the salty vet back there on the last line of defense. Speaking of Evans, the toe injury that shelved him in December has yet to fully heal.
Buc assistants say Bowles is all about putting his guys in the optimum position to succeed. That thought leaves me with an intriguing image.
Can't you just see Todd Bowles sitting in front of his master board in the middle of the night, trying to figure out Ryan Smith's attributes?
Ira Kaufman began covering the NFL as a New York Giants beat writer in 1979. He arrived on the Buccaneers beat in 1985, and the corporate leash finally was removed from his neck when he joined JoeBucsFan.com in July 2016. The award-winning Ira Kaufman Podcast fires twice per week, and Ira's columns appear thrice weekly, except when Ira is on special assignment. Tampa Bay's only Hall of Fame voter also is a popular guest on various national radio and on local TV.