"We Don't Have All The Pieces In Place"
May 1st, 2019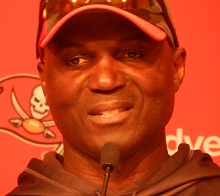 Defensive coordinator Todd Bowles was peppered with questions from media this morning at One Buc Palace and one of Joe's questions provoked an interesting response.
Bowles hadn't been interviewed since the Bucs signed a hearty handful of defensive free agents to one-year contracts.
Joe asked Bowles to talk about a couple of guys from that group of newcomers and talk about how they fit.
"Well, I like all the guys we got. With [Deone] Bucannon and [Shaquil] Barrett, I'm not going to discuss scheme right now because we don't have all the pieces in place. And they'll line up and play and compete and if they don't start, we'll have some packages where they fit in, certain games and try to do certain things with [them]," Bowles said.
Joe found it interesting when Bowles said "we don't have all the pieces in place." Perhaps that means the Bucs offseason is far from over and another key piece or two is being targeted? More likely, Bowles meant that he doesn't know the strengths of all his players yet and how he'll define the pieces currently in place.
One big theme of Bowles — and the assistants who talked about him today — is that he works tirelessly to adjust to the talent he has.