Charlie Weis Talks About Jameis Winston's Biggest Challenge
May 27th, 2019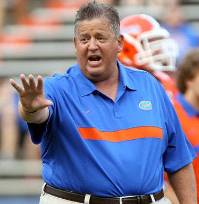 The film on America's Quarterback, Jameis Winston, led iconic NFL offensive guru Charlie Weis to discuss a priority fix.
And it's not about just saying, 'Cut the damn turnovers.'
Weis knows what he's looking at.
Calling plays for Bill Parcells and the Jets back in 1997, Weis squeezed a winning and solid season out of 31-year-old quarterback Neil O'Donnell, who had gone winless the previous year.
A year later, Weis was ordered to turn 35-year-old Vinny Testaverde into a star. No problem. Testaverde was dominant (29 TDs, 7 picks) and the Jets led the AFC Championship game 10-0 in the third quarter but choked it away.
Weis later moved on to counseling and calling the shots for a newbie QB named Tom Brady.
Friday on SiriusXM NFL Radio, Weis was talking all things Jameis. He started by saying Jameis has had good coaching in the NFL — hmm, that sounds familiar — and Weis reminded the national audience that he believed Jameis was worthy of the No. 1 overall pick back in 2015.
Also, Weis said Jameis hit the jackpot with a Bruce Arians staff that is "very quarterback-friendly."
Weis still sees all the potential in Jameis but believes 2019 is absolutely the end of the line for him, in part because of the talent around him and the coaching.
The biggest fix for Jameis? "You can't get enamored on who the receiver is. You gotta get enamored on where the ball is supposed to go," Weis said.
Weis believes Ryan Fitzpatrick did such a better job comfortably spreading the ball around and that magnified Jameis' shortcoming in that area.
Still, Weis is upbeat that Jameis can be the franchise quarterback Bucs fans desire.
"No one has more to gain or more to lose than Jameis Winston. That's where he is. He's on a one-year contract," Weis said.

"You got tight ends. I mean, you got Howard and Brate. You got wide receivers: Evans is a stud, ok, and Godwin. You got Payton Barber and Ronald Jones, who I think you'll see a resurgence of. Your offensive line played pretty solid."
Overall, Weis sees the loss of Jason Pierre-Paul as too big for the Bucs to overcome for 2019.
He's also concerned about all the pressure on Devin White, a pick he absolutely loved, because the Bucs didn't improve enough around him.