Bucs Getting The Gentler, Kinder Ndamukong Suh
May 30th, 2019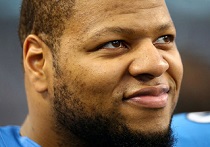 BY ZACHARY SEIFTER
JoeBucsFan.com intern
Everyone remembers when he stomped on Aaron Rodgers' leg and when he pushed Evan Smith's face into the turf. It's what made Ndamukong Suh a household name.
He was labeled a "dirty" player with lots of penalties. But the numbers clearly show that version of Suh is long, long gone.
Years ago, Suh seemed not to care about the penalties or the consequences that came with him losing his temper. But he's earned the right to shed that "dirty" label as he's gotten older. For years, Suh has played with an edge that rarely continues after the whistle.
During the past two seasons with the Dolphins and Rams, Suh was responsible for 21 penalties, 14 of which were enforced. Those 14 enforced penalties matched his total from the 2015 season, his first in Miami.
Suh didn't have one single unnecessary roughness penalty last season with the Rams, and only two in 2017. Bucs center Ryan Jensen had four last year alone.
For further comparison, J.J. Watt and Von Miller each had more penalties than Suh last season, and Suh was penalty-free through three playoff games.
Suh did have three roughing the passer penalties over the past two years, but considering that all one has to do is breathe near a quarterback to get that penalty, it's hard to call him a dirty player because of it.
All three of those roughing the passer penalties hurt his team, though, coming in the fourth quarter with Suh's club either trailing or holding a slim lead.
But Suh has seemed to figure out how to avoid playing stupid football; his seven enforced penalties last season had him tied for 45th in the NFL. And keep in mind he played in all 16 games, logged a load of snaps and was a star through the playoffs. His seven enforced penalties in 2017 ranked tied for 35th in that season..
For a Bucs team that committed 117 penalties last year, that kind of discipline should be welcomed. Bruce Arians is all about accountability and won't tolerate anything less than a highly-disciplined football team.
So no return of your leg-stomping days this season, Mr. Suh.