Notes From Wednesday & Thursday Practices
May 30th, 2019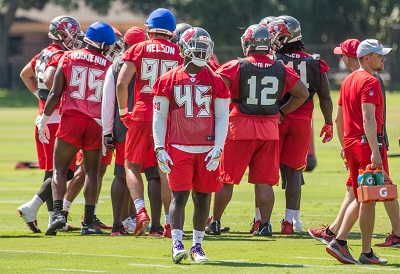 Our beloved Buccaneers continue to practice on the hallowed fields of One Buc Palace and inside the Glazer Shed, aka the on-campus indoor facility.
Spring practices, OTA Days 8 and 9, were in full swing yesterday and today. Unfortunately, the Buccaneers locked out the local media.
However, the fantastic news is that Buccaneers.com reporter Carmen Vitali was taking notes and providing a report. Joe read her analysis of the no-pads football sessions and summed up both days for you below:
Wednesday (indoors)
O.J. Howard and Chris Godwin can catch and run, and they did that a lot.
Rookie Scotty Miller made a diving catch.
Ronald Jones made a one-handed touchdown catch.
Thursday (outdoors)
Howard showed more skills and drive.
Vernon Hargreaves had an interception in the end zone against an unnamed QB.
Carl Nassib and Devin White show a lot of energy and enthusiasm.
This got Joe excited for the final day of spring practice (OTA Day 10) tomorrow at One Buc Palace, when Joe and local media will be allowed in.
Mandatory minicamp is next week. Will Jason Pierre-Paul come to watch?