Arians Orders: Don't Get Too Close To The QB
May 6th, 2019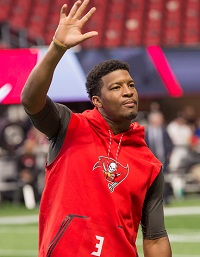 The quarterback whisperer, head coach Bucco Bruce Arians, has certain rules when it comes to America's Quarterback, Jameis Winston.
Now what those rules are unclear. But Arians has said several times in many ways that he has to be careful not to overcoach Jameis. That's one thing he relies upon Clyde Christensen for, Arians said, to put the brakes on the head coach when he expects too much.
With the biggest coaching staff in NFL history, per a Peter King report, Arians probably has to take that a step further. You don't want too many coaches in Jameis' ear, even if it's just a little bit.
New Bucs assistant Antwaan Randle El, the longtime NFL receiver, joked last week that Arians said he might have to fire a coach Why? Because Randle El got too close to Jameis.
Randle El said he got caught "trying to give [Jameis] a look," something tied to the team heading out to the practice field last week. The details Randle El served up were fuzzy.
Regardless, as spring practices heat up this month, Arians will be pulling the puppet strings when it comes to the shaping of Jameis. Last week, assistant head coach Harold Goodwin shared with media that Arians sat in his golf cart and told him he was bored as *&#$ — as assistants run much of the show. Goodwin laughed and said that won't last long.
At some point, even if just for a stretch of time, Joe suspects Arians will take over all things Jameis. Joe sees Arians now as a great predator in the jungle, just waiting for the perfect time to pounce.