"We Have To Watch That We Don't Overcoach Jameis"
March 29th, 2019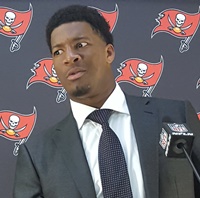 America's Quarterback, Jameis Winston, will see a new offense for the first time since he arrived in Tampa and hugged Lovie Smith and high-fived Dirk Koetter.
Bucco Bruce Arians says there will be a lot of temptation to short-circuit Jameis' brain.
"We have to watch that we don't overcoach Jameis," Arians told Joe and a few local media members this week in a cozy hallway area of the Arizona Biltmore resort.
Yes, Jameis will have Arians, Bryon Leftwich and handpicked QB guru/coach Clyde Christensen in his ear. The old saying, "too many cooks spoil the stew" certainly applies.
The good news is Arians has a check-and-balance chief in place. Arians explained that he leans toward overloading his quarterback with information but Christensen is a master of reeling him in.
"Clyde is great at that; 'Coach, that's awesome stuff but I think we got enough. I don't think he can handle any more," Arians said, mimicking how Christensen handles him.
Later on Tuesday, Joe asked Arians if it's possible for Jameis to overwork himself. After all, he is in at 5 a.m. and his work ethic is extraordinary. Arians said he doesn't think that's possible after working with Peyton Manning, who Arians said was simply unrelenting in his attention to detail and round-the-clock drive.