Special Teams Coach Lauds Jordan Whitehead, Dare Ogunbowale
May 16th, 2019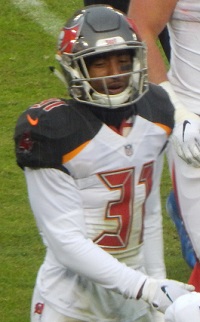 Bucco Bruce Arains' staff spent days poring over game film and practice film to see what they had in the roster they inherited.
Sadly, coaches don't publish a report card to reflect all that grading. That would be fun and enlightening.
So Joe and other media rely on asking for insight. Sometimes it comes; sometimes it doesn't.
When assistant coaches met with media earlier this month, Joe asked special teams chief Keith Armstrong who he liked on the Bucs' various special teams units after studying all that 2018 film.
Armstrong didn't want to cough up specific guys — and then he did.
"I don't want to get into a lot of names, to single guys out. We're trying to form a team," Armstrong replied. "I do like [Jordan] Whitehead, and I do like Dare [Ogunbowale], the running back, No. 44."
Ogunbowale is viewed as a returner, but he does play other special teams roles. Whitehead, of course, is all about being ferocious and tackling.
With Arians' enhanced focus on special teams, it sure seems like Whitehead, who made 11 starts at safety last season, is a lock for the roster. Joe's quick look at 22-year-old Whitehead this week revealed a guy who definitely added muscle this offseason.