Wild Card Rodney Anderson
April 2nd, 2019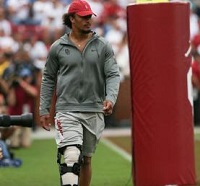 The Bucs probably will be down a famous Oklahoma Sooner on opening day.
Will they add another? A couple of draft gurus would be all for it.
Man, it would be so Bucs to pull the trigger and use valuable draft capital on a talented running back with a long injury history that includes blowing his ACL last September. That describes Oklahoma RB Rodney Anderson.
Former three-time Pro Bowl running back Maurice Jones-Drew and draft guru/ex-defensive back Bucky Brooks were all fired up on NFL Network's Path To The Draft late last week talking about the prospect of the Bucs scoring Anderson with a mid-round pick.
Brooks was bellowing that Anderson is a lot like stud Cardinals running back David Johnson, Bruce Arians' bellcow in Arizona. And Jones-Drew thinks Anderson is one of the best backs available in the draft. "His injury history is crazy," he said  "But when he's on the field, dynamite."
Joe tries to think out of the box, but Joe can't justify coughing up a third-round pick for a running back with a healing knee and a history of other injuries, including his back.
Every year teams draft healthy running backs that are better than Jeremy McNichols (aka SnoopDogg McPlaybook) and Ronald Jones. Can't the Bucs do that? That's not too much to freakin' ask.
Anderson is the kind of guy a non-desperate team drafts with their fourth-round compensatory draft pick. The Bucs don't have that luxury, not with the likes of Ronald Jones, Shaun Wilson and Andre Ellington behind their starter.